White Label Flyer & Calendar of Events
One of the first things many travel agencies realize when they start marketing travel to major sporting events is that many of their best clients are already seeking out sports travel experiences. To assist our travel advisor partners in promoting this niche market (and in turn creating value for their clients and big commissions for the company), we have created a one page flyer that can be branded with your agency and contact info. It provides a calendar of the top sporting events around the world and also serves as a handy cheat sheet for advisors to know when and where top events are located.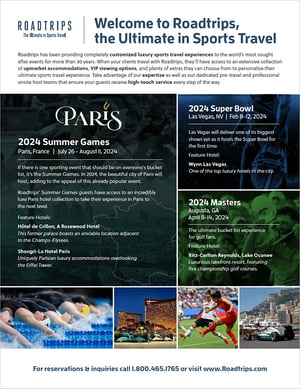 Front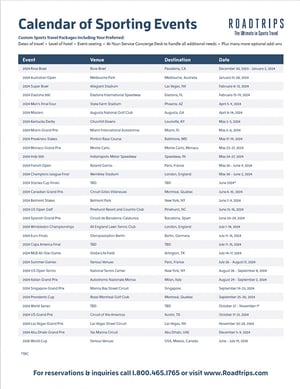 Back
Download PDF Brochure
To receive a white-label flyer that you can customize and send to your clients, fill out the following form. A link to the brochure will be provided once your form is submitted. We'll also send you an email with a link to the brochure.
Our Sports Travel Specialists are available to answer your questions weekdays from 8:30 a.m. to 5:00 p.m. CST at 1-800-465-1765.